Sightseeing
in Mong Kok
As well as shopping and dining there are of course many other things to do in Mong Kok, here are a few select items to check out. Make Mongkok your base for visiting these stunning attractions for any visit to Hong Kong. No matter what your interest, from shopping to history, you'll find that Mongkok has got it all!
Tong Lau - Historic buildings located on shanghai street these are some of the rare reminders of a busy Hong Kong of the 1920s and 1930s. With distinctive pillars on the pavement supporting an overhanging first storey they today house a mix of interior design shops as the area is now a major buying destination for tiles, blinds, bathroom fittings and the like. But step back, or across the road, and look up and you can see the distinctive three storey design with residential floors above and a shop below. Located just across the junction from Langham Place.
Ladies' Market - As much a place to see as a place to shop this daily street market is open from mid day until late at night with both street stalls and shops lining Tung Choi street with every imaginable variety of clothing and accessories.
Sai Yee Street Garden - Take a break at the children's playground at Sai Yee Street or the nearby Mcphearson Stadium to watch the local kids play football. Both provide public restrooms. This corner is a popular place to catch long distance coaches into China so don't be surprised to see queues of people with luggage waiting on street corners!
Tung Wah Museum - Located in what was once the main hospital hall this look back at the history of the Tung Wah group of hospitals is an interesting stop on your tour of Mongkok. The first hospital in Hong Kong to provide free care to the Chinese population. First built in 1911 it was converted into a museum ain 58 and has remained so since then. In 1991 it was renovated but maintained the authentic original style. The hospital archives are kept here. Visit it at 25 Waterloo Road, Mondays to Saturdays 10:00 a.m. to 6:00 p.m. (Closed on Sundays and Public Holidays)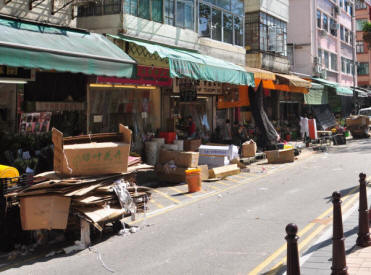 Flower Market Road - A wholesale flower market that also welcomes individual buyers of cut flowers, seeds, garden furniture, pots and growing plants. Very busy in the morning as pictured here with boxed deliveries of blooms. In the afternoon it is quieter and a great place to browse the wonderful colourful floral display of blooms from all over the world. Shops spill out onto the pavements with buckets of cut flowers and piles of gardening accessories everywhere. Located right behind the Mongkok Stadium it is right next to the Bird Garden where songbirds are sold and displayed. website
Goldfish Market - This short stretch of Tung Choi Street has more pet fish than you could believe. Visit just to see the amazing range of tropical fish that are sold and collected in Hong Kong. website
Sneaker Street - Properly called Fa Yuen Street this intense collection of Sports Shoe shops in one line is an overwhelming choice of brands both major and minor and the absolute latest trends and styles in all kinds of athletic footwear. website
After enjoying Mongkok's attractions don't miss out on the other sightseeing destinations in Hong Kong.